This mayonnaise is a complex mixture of spicy, cool, earthy and smoky. Just AMAZING with our chipotle chillies and its popularity is well-deserved. Frequently referred to as Chipotle Crema or Chipotle Aioli, it might just be your new favorite condiment! It's definitely one of our go-to condiments all year around, perfect for spooning into sandwiches and burgers, or a dip for fries, chips, veggies and pretty much anything grilled. And it is one of the most useful no-thinking involved recipes you can have in your arsenal, with just a few ingredients. We love this stuff, but be aware that you can get addicted to this sauce! If you WANTED more spiciness kick with the resulting mayonnaise, just add in more Chipotle. When you make it at home, you can make it as spicy as you'd like. It is totally under your control. You'll note the smoky zing from the chipotle chillies, which adds a bit of pop to anything you add it to. It's a fast and easy sauce that everyone loves, from the small child to the oldest in the room. Next time, be the success of your family gathering!
Ingredients
Mayonnaise; Whole Dried Chipotle; Garlic; Lemon/Lime; Salt.
Chipotle is a smoked red ripe jalapeño (meaning smoked chili), our Chipotle of the "Meco" kind with grayish-tan, quite stiff, and often described as looking like a cigar butt. Are the ones left on the bush for longer, until they start to lose their moisture. After harvest they go through a long process of slow smoking, which gives them an intense and strong smoky with a slightly spicy, grassy fruitiness flavor. It is excellent for combining with liquid sauces, stewed and marinated dishes. Use them as a dry rub or a seasoning after you grind them up into chilli flakes or powders. You can also rehydrate them in hot water until they are softened, then remove the stems and seeds. Process them in a food processor, blender, or a molcajete with other ingredients to form a chili paste or a sauce.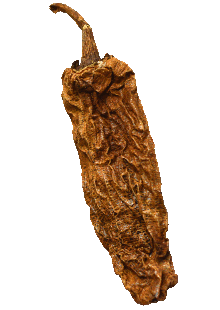 Preparation
The first step is to re-hydrate the dried chipotle chillies in warm water for 15 minutes. After that, take them out of the water and let them cool down, when they are cool enough to handle, cut off the stems, scrape out the seeds of the chipotles and cut them in smaller pieces. You don't need to get rid of every last seed because it won't affect the flavor too much, but they harden over time so it's good to get rid of most of them. Add the following ingredients to a blender or food processor: (In alternative you can use a recipient and a hand blender) 450ml Mayonnaise; 20 to 40g of re-hydrated chipotles pieces, stemmed and seeded; 2 or 3 whole, peeled garlic cloves; Pinch of salt (plus more to taste); Squeeze of lemon/lime; Add spices to your liking; And give it a whirl. Take a taste for seasoning, adding more salt and lemon/lime if you want. A dash of acidity from the lemon/lime really brightens it up so don't skimp on that step!
Prices
Don't bother to make it on your own. We do it for you!
Prices don't include transport or payment fee. For whole sale prices please contact us
Contact Us
If you want to order or if you need additional information